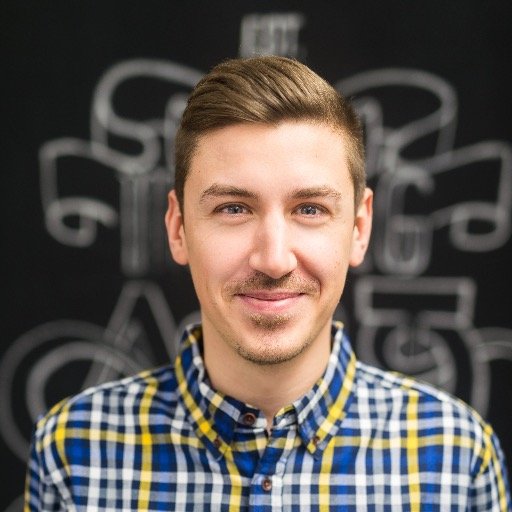 Meet Roman Mastalir, 2018 VentureOut Czech Accelerator Alumnus. A man after innovation and team leadership, Roman and his brilliant team did what most people thought would be impossible – they managed to grow their event and networking platform during a global pandemic. Even under these disastrous circumstances when the whole world shut down, VentureOut Alumni Eventee successfully pivoted their platform to meet the ever-changing needs of the 2020 consumer.
"Did we plan higher growth in 2020? Definitely. Was I afraid we are going to go bankrupt? You bet."


Roman Mastalir
Eventee provides easy-to-use event management tools with an awesome mobile event app for event organizers and attendees. Although 2020 was a challenging year for Eventee, I have excerpted this organic growth chart which manifests insights on how Eventee managed to grow even when the Economy is gloomed by COVID.
We are excited to bring back our VentureOut alumni Roman Mastalir, the founder of Eventee, and talk to him about his journey with Eventee and how he brought his company from the Czech Republic to the spotlight of the world NYC. Read below for his journey of founding Eventee all the way to keeping his team together during uncertain times.
Interview with Roman Mastalir

Q: Is there an incident or an event that sparks your interest in creating Eventee and becoming a founder?

A: In 2015, as a PR stand, we happened to be invited to create an application for a giant annual tech event in our city. The biggest problem of this event is the fact that it is held by a non-profit organization, and therefore it is free. Every year, it could not avoid having unpaid speakers who were not prepared and canceled the presentation the night before. Besides, the agenda was written on a piece of paper where it got crossed out and rewritten again. So it was a mess. With that being said, we came across an idea "hey, how about let's try to create an application for them?" It is a tech summit, so we wanted to offer a good portrait of the tech community in our city and essentially ourselves as a digital agency. Plus, we could promote our core business. Eventually, it went incredibly well and people from all over the country reached out to express interest in trying our application. The application received great feedback, so we quickly realized we were up to something amazing and maybe there is a market for it.

Q: You filled the void of the potential event planning market. What were the steps you took when you became more serious about Eventee?

A: We continued with the development as a sidekick, because our primary focus was still a digital agency. In 2018, we made the trip to New York, specifically to VentureOut, as we realized the potential of Eventee and thought we need some help to materialize and mature our business idea to push it forward globally.

Q: How did VentureOut help in the process of maturing Enventee?

A: Our main goal to come to VentureOut was to understand how to operate in the US and comprehend our business from an expert view. We think we definitely succeeded in this objective from my point of view. The mentors assigned to our project gave us a lot of valuable insights and we received a lot of help from PR to marketing to educate us on how to make direct sales in the US. After that, we came to an end with our digital agency and decided to only focus on Eventee in 2019. We expected the revenue to drop because of the closure of our digital agency, but to our surprise,, the revenue generated by Eventee from 2018 grew 100%. However, COVID kind of changes everything for us.

Q: Can you elaborate on how Eventee adjusted to the new virtual world?

A: First, I want to give a big shoutout to my team at Eventee. It only took our brilliant engineers and incredible team members a few weeks to release the basic version of the virtual meeting feature, so we didn't lose our current customers to Zoom. Besides, we made a few more strategic adjustments. We pushed for lifetime access to our application, which was a huge uplift in revenue to counter COVID. Meanwhile, it is a confidence boost for the team itself that we have people who put their bets in us and believe we can survive this global crisis. To this date, we are still fixing and improving our virtual event feature based on customers' feedback. To us, it is quite challenging. Even though we have a great engineering team here, it is quite a brand new territory for Eventee.

Q: What is the biggest challenge in implementing your new adjustments?

A: I believe we have the best networking platform for in-person networking events. In many networking events, you are alone there. You don't know anyone, but you would like to meet with the proper people, right? You would like to network. But my experience from New York is that there is a mismatch between people I want to meet and people who I met. For example, I met YouTubers, wedding video editors, and some other amazing people who don't share the passion. In my opinion, it is a waste of time for both parties. Therefore, we developed our unique networking feature inspired by Tinder. After you fill out your basics, it works like Tinder that you can see the pool of your potential matches who register for the event you attend and you need to "match" with the person you want to network with. This works great for in-person events, but for virtual events, it is a different story and we are still figuring it out haha.

Q: When reading your personal website and I saw talked about being in a founder space versus going to corporate space, "you have all your friends buying cars and houses and you're sitting there like I am in debt, I'm investing all this money. I'm so in love with this idea, but I don't have what they have". What would you say was your biggest inspiration that kept you going?

A: Good question and very difficult and complex to answer. I think the main reason for me was that I really love the product and it's something good that we discover in our journey at Eventee. We put all our hearts into the project and I wasn't just ready to let go. So I did everything to keep the project and team together because I believe that it will be eventually successful.

We didn't find a specific niche and we have serious competitions that have been doing this for a very long time. However, I believe that we don't need to cover everything. We just need to be better. It's not that difficult. We have fresh eyes and it's easier to come on the market with something new and fresh than trying to rebuild something you have for 20 years.

Q: As a founder, you're convicted in your idea and belief that this will make it. Sometimes there's like that dynamic within the team that they might not share that same conviction about your idea. How did you filter out the people that you trust fully to go on this journey with you? And how did you keep the team connected to the project and keep the trust and belief when things weren't necessarily looking so good especially during COVID?

A: I would keep those people who are most interested in the product. I can see that they are still willing to give everything to the project, even though there are great other opportunities in other companies and so on. There was not a hard line between all the other team members and those we kept, it was just probably organic and natural. I would say it was a natural and mutual process. And about the dynamic within the team you mentioned, I learned that I'm still part of the team. It's not my idea against their idea. We are one team, so we need to discuss this together.

Q: How would you say VentureOut contributed to the success of the Eventee, and what was something you felt was missing from the experience?
A: The only thing I feel we were missing out on was that we came to VentureOut too early. At that time Eventee was nothing but a relatively immature product. We did not have a proper marketing plan or a pricing model. It was just too early to succeed in New York back then. But if we weren't there, I'm afraid that we wouldn't be at the same place where we are right now.

In the three months at VentureOut, the push for the product got really hard, because we were kind of unprepared in a sense. But it was a super rewarding experience for us and VentureOut helped Eventee grow tremendously. In the beginning, Eventee has nothing but a product, so our mentor, Monica Stewart, helped us to get our first US customer. And other mentors help us with marketing, business development, and so on. So we went from zero to one, but now we would be able to get from one to 10 if you know what I mean.

To sum it all in one sentence how VentureOut shaped my experience and helped to grow our business, I have a masters' degree in Business Management and I learned more about business in those three months than during my studies. My education was super theoretical, but at VentureOut, it was super practical and I experienced much more in those three months than in five years at the school.

Interested in Eventee and want to read more about them?
Find out more about Eventee and its journey from https://eventee.co/